Perhaps you have noticed our growing desire to commit to sustainable and sustainable development. However, the latest events, whether the global shock following COVID-19 or the Law on the fight against waste and the circular economy of February 10, 2020, have precipitated actions.
Let's be co-actors for reasoned fashion!
In essence, our work allows the marketing of measured and responsible consumption, upstream. The "pre-ordered" purchase by measurement and customization is a committed purchase. Conversely, brands produce clothes even before they want to buy. On the contrary, they rely on convincing you to buy downstream. Which is less ecological, because there is always overproduction. Some sales estimate is made in all sizes. Rarely is a model sold out, let alone in all sizes. This is why tailor-made is more ecological: there is no manufacturing other than orders, without mentioning the question of material choices, treatments and transport.
An ethical and social fashion
Adding to this organic materials and supplies, recycled and environmentally friendly in the service of retouching, amplifies the virtuous character of our product. The optimization is almost maximum: from the act of purchase, to production, distribution to upcycling, by the after-sales service. This process also allows to adapt to any morphology and physical difference.
Less far, more local, it's better!
Our Origine France Garantie label is part of the national and historical reputation of France's influence on the world scene, in the fashion sector. But not only. At a time when each CO2 emission is measured, it is certain that the impact of our production is less polluting than any relocation. Being convinced of the importance of our role as a fashion manufacturer, our research and development center is currently studying with cabinand CYCLECO, the CO2 impact of our shirts. The first results show that we halve the CO2 impact of a French shirt with a French fabric, compared to a shirt made entirely in Asia!
Local solutions for global action!
Our actions in favor of the environment do not stop at the product offer. Resolutely an actor at heart, we try to raise all possible levers to act locally. In this sense, we have chosen to source electricity from SELIA Energies, green energy of 100% renewable origin.
From one thing to another …
All stages of production are improved for this purpose. Any proven solution both in terms of quality and in terms of environmental and social ethics is adopted. From now on, our shirts are assembled with a recycled polyester thread (EPIC ECOVERDE Thread 100% Recycled Polyester from COATS). Complete the ethical value of your shirts with our various references of natural buttons such as mother-of-pearl or olive wood (1), organic with hemp (2) or innovative such as BL01 in milk stone (3).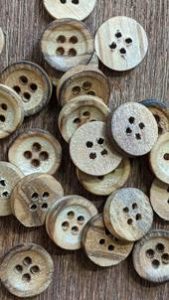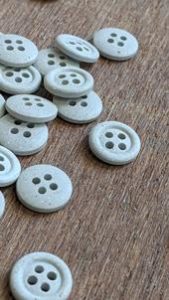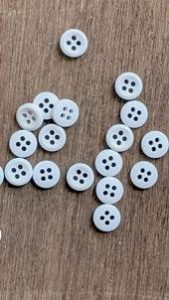 Ruiz sur mesure commits to this approach by offering you a shirt made to order, in France with environmentally friendly fabrics! Create your custom shirt !